Over 13 % of women in the United States will get breast cancer in their lifetimes. In May 2021, my wife Laurie, found she had a cancerous tumor in her left breast.
While radiation therapy does play a crucial role in treating breast cancer, it can cause incidental damage to the heart when a radiation beam is used on left breast cancer (being the heart is on the left side of the chest) that may in turn damage the heart and increase the risk of heart disease.
Because of Laurie, MD Anderson Cancer Center Radiation Department is now requiring all women that are going to have left breast radiotherapy attend a thirty minute class on learning how to do "belly breathing" before beginning radiation treatment.
In June 2021, Laurie had her first radiation treatment on her left breast. The standard protocol was to have the patients hold their breath in order to have less exposure of radiation to the heart; however, as you can see below, Laurie was able to move her heart consistently 3 centimeters, which protected her heart from the radiation exposure.
Dr. Melissa Pulfer Mitchell was astonished that Laurie was able to move her heart and consistently do this within a few millimeters. Laurie told the doctor that she was a long distance swimmer and it is only possible to swim long distances if you knew how to "belly breathe". See: how-to-relearn-how-to-breathe/
A few weeks later, the doctor did a presentation at a radiology conference in Orlando, Florida. She used Laurie's images below as an example of what is possible when "belly breathing" is used successfully in radiation treatments.
I believe this may become the standard protocol for left breast radiation treatments worldwide.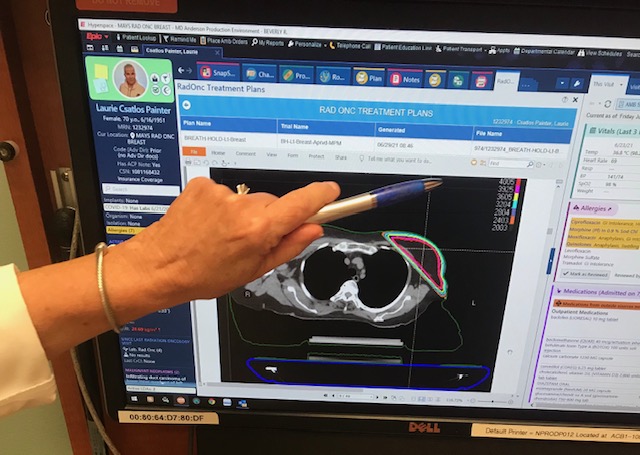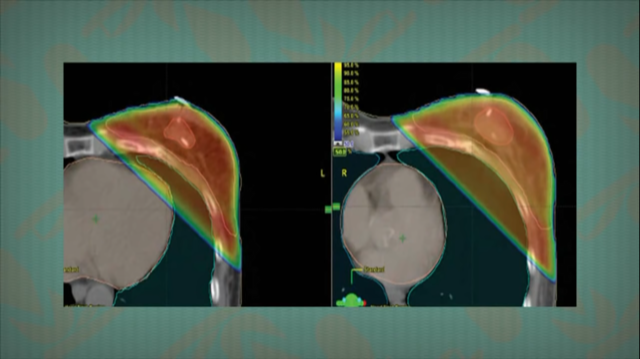 Before & After
Clint77090(at)gmail.com