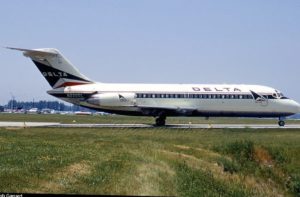 I witnessed a fatal airplane crash on May 30, 1972, at the Greater Southwest Airport (GSW). I was an air traffic controller and a private pilot. The day before I flew with the three pilots for over three hours on this aircraft as they prepared for a FAA check ride for captain. After the flight I made dinner plans with the check pilot to go out for dinner with our wives the following night.
The following day I saw these pilots and a FAA inspector all die in an explosive fireball on the runway. I was outside of the control tower and witnessed the Delta DC-9 get into wake turbulence by following too closely behind a jumbo jet (DC-10).
The DC-9 cartwheeled on it's wings down the runway with me experiencing the visual, the sounds, the temperature of the blast, the blast concussion when it exploded into a fireball over a thousand feet into the air. I am sure I went into shock and less than ten minutes later l was asked by a supervisor to relieve the controller in the radar room that had worked these aircraft.
For over twelve years I suffered from the effects of PTSD. None of my learnings from all of my undergraduate and graduate psychology courses helped. Nor do I think it would have helped if I knew current day brain physiology. I did seek mental help from five different therapists. One therapist made my "flashbacks" worse by having me do a form of "Exposure Therapy" !
I couldn't let anyone know, because of the shame (I wasn't normal) and I was afraid of losing my FAA Class 2 physical which meant losing my job as a controller. I often experienced flashbacks sometimes almost daily from this accident until 1984 when I attended a therapy workshop in Houston.
During this workshop I volunteered to be the demonstration subject for the NLP Trauma/Phobia Cure (today it is also named as the "The Rewind Procedure ", "NLP Fast Phobia Cure", and the  "Reconsolidation of Traumatic Memories (RTM)". The procedure worked and it took less than fifteen minutes! That was the end of my flashbacks!
Of the three air traffic controllers that witnessed this crash, I am the only one that has lived past age fifty-seven. I am currently seventy-seven. The other two lost their medical certificates, were medically retired, and were medicated until their untimely deaths in their fifties.
If I hadn't attended that workshop in Houston over 39 years ago, I am pretty sure I wouldn't be working with others that have experienced trauma or writing about this today.
I have used this procedure in person and over the telephone/Zoom with hundreds of people over the past thirty-nine years. I have never had an unsuccessful client session with a client experiencing PTSD flashbacks.
Depending on the issue, talk therapy can be great and all that is needed to help someone. However, there may be an event and/or belief that continues to feel "stuck" no matter how many times you've processed it with someone. This is where effective trauma therapies like those posted on this blog should be used. People can really heal their traumatic memories. They no longer have to just cope with their unwanted emotional states.
Around the same time period (1984) a brilliant therapist/teacher, Steve Andreas (1935-2018) recorded a therapy session with a lady using this procedure to cure her phobia to bees. Steve did a followup interview twenty-five years later with her. More on Steve later..
Thirty-eight years later, I still find it amazing and disappointing that less than 20 % of practicing therapists are familiar or have ever heard of the NLP Trauma/Phobia Cure, also known as the "Rewind Technique" or the  "Reconsolidation of Traumatic Memories (RTM)".
Steve Andreas until his death in 2018 had tried to get the attention of the mainstream therapy community of this simple, but wonderful life altering procedure, This is the YouTube video of the Psychotherapy Network Symposium where Steve was a presenter in 2014. Steve gives a demonstration of the procedure and appropriately titled the 20 minute video:
"Therapy Isn't Brain Science " & The Procedure
Her 25 year follow up:
I believe this procedure is more effective for PTSD "Flashbacks" than EMDR. One great positive offshoot from this procedure was EMDR. Francine Shapiro noticed the client's eye movements of people doing the NLP Trauma/Phobia Cure when at the time she was employed by the co-developer of NLP, John Grinder. With greater development of the processes over the years and outstanding marketing, the EMDR process has been taught to more than 200,000 therapists worldwide to work on a wide range of psychological issues.
See these postings for more information:
July 11, 2023: https://clintmatheny.cdn-pi.com/opinion-the-best-ptsd-treatment-youve-never-heard-of/
:https://clintmatheny.cdn-pi.com/nlp-trauma-phobia-cure-ptsd-cure-10-year-follow-up/
Clint77090(At)Gmail.Com